Temperament and Personality
Alaskan Malamute Vs Husky Personality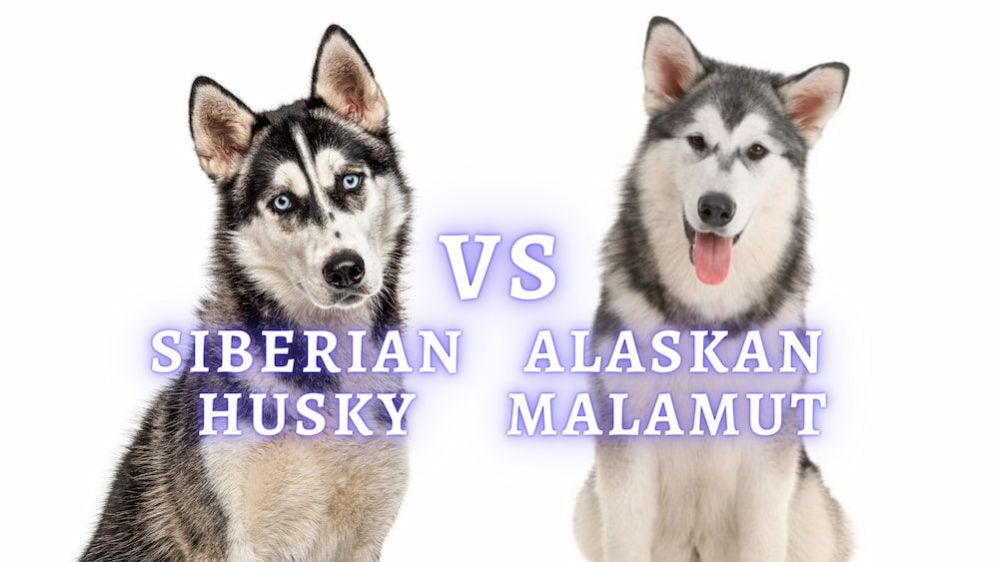 Both of these dogs adore their owners and demand lots of one-on-one time, especially from energetic people who share their passion for the great outdoors. Both dogs should never be left alone at home for extended periods of time due to this. When they're happy, they're adorable and cheery rascals, but when they're sad, they can be quite destructive.
Prospective pet parents must be able to keep up with all the jogging, carting, skiing with dogs, hiking, snowshoeing, and bicycling that these energetic puppies are keen to undertake since malamutes and huskies inherit special endurance abilities. Thankfully, they can frequently transport their own water bottles and other trip essentials.
Mals do, according to Berquist and Smith, have an off-switch that is not as easily flipped on a husky. A malamute is a better match for someone who wants to take in the surroundings rather than constantly feel the rush of adrenaline, according to them.
Huskies may at first seem a little bit more distant, but according to O'Connor, they make fantastic companions and frequently accept dogs of both sexes into the household equally. According to Berquist and Smith, malamutes tend to be more sociable and eager to roll over for endless belly rubs. They might object if dogs of the same sex compete for attention on the couch. Both dogs can become a little enthusiastic in the heat of the moment and may have a tendency to jump up on humans if they don't have the benefit of learning in a puppy kindergarten atmosphere.
Huskies and malamutes get along nicely with children, yet both breeds have a high prey drive. Smaller creatures like cats, bunnies, and squirrels are therefore frequently observed, and not always in a positive way. Therefore, these dogs need gentle, continuous cue training, and they should always be kept on a leash in public.
Additionally, huskies and malamutes have a strong digging instinct that comes from needing to build their homes in enormous snow mounds. As a result, they have the ability to significantly change your landscaping to make it more "dog-friendly" or to quickly scurry away under the fence. We completely understand that a suburban backyard doesn't have much appeal if you're used to traveling across large nature areas! Make sure you have secure fencing and a current microchip since huskies in particular are known as "Houdini hounds" and may both dig and jump their way into a new adventure.
Alaskan Malamute vs. Siberian Husky: Both Will Make You Howl With Joy, But Here's How to Spot Their Differences
Alaskan Malamute Vs Husky Personality
With eager and sly canines who can also drag you about on a sled, it's simple to fall head over heels in love! When comparing the Alaskan malamute and the Siberian husky, seasoned pet owners generally think there isn't much to argue about because both dogs inspire awe and delight. These breeds have devoted following who appreciate their hard work ethic and enjoy watching them playfully misbehave.
It can be difficult to distinguish one plush dog from another against a snowy background, so we polled an expert panel to learn more about the similarities and differences between a husky and a malamute.
Pam O'Connor, president and co-chair of the Delaware Valley Siberian Husky Rescue's intake and foster committees
Alaskan Malamute Club of America's public education chair and proprietor of Delphi Alaskan Malamutes in north-central Minnesota, Julia Berquist
The Minnesota Malamute Club's Alexis Smith
Let's move on to the specifics now.
Husky vs Malamute: 11 Interesting Similaries & Differences
Siberian Huskies and Alaskan Malamutes are both "wolf hybrids." Because of this, they are similar in many aspects, including appearance and attitude. But a Malamute and a Husky differ significantly in a few key ways.
Neither the Siberian Husky nor the Alaskan Malamute make suitable lap dogs. However, because both breeds were developed to pull sleds, they will both be vivacious, muscular, and active. While Malamutes are more reserved, Huskies are more outgoing.
Of course, when comparing the two, there is a lot more to these polar dogs. We'll delve further into both dog breeds in this essay. In addition, we'll discuss the history of each breed and contrast its traits with those of the other.
21 Radiant Russian Dog Breeds RECOMMENDED
Chart of Breed Comparisons
Anchorage Malamute
Husky from Siberia
Husky and Malamute differences include:1. They each took distinct routes to Alaska.2. The Husky is much smaller than the Malamute3. Malamutes cannot have blue eyes, whereas Huskies can4. Huskies are less expensive than Malamutes5. Malamutes are less popular than Huskies.
Husky and Malamute Share 7 Similarities
Malamutes and Huskies both excel as sled dogs. They both have a "spitz-type" appearance. They both have similar levels of dog intellect. They both have high levels of energy. They both have thick double coats. They both have a reputation for stubbornness. They both have a high degree of loyalty.
Should I Get a Husky or a Malamute?